Home
Who we are
What we do
How we do it
Contact


Michael D. Rabin, Ph.D.
Founder & Principal, Direct Perception, LLC
---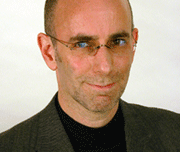 Direct Perception's clients include some of the nation's leading technology firms. Before founding Direct Perception in 2001, Michael was Vice President, Global User Research and Information Architecture at Rare Medium, Inc. one of America's premier web design firms. There he grew the Information Architecture discipline from 0 to 45 consultants and established User Research laboratories, staffed by behavioral scientists, on three continents. He is a recognized expert in usability and user experience design and was responsible for Rare Medium's user-centered design disciplines. Previously, he served as VP, Information Architecture at IllusionFusion, a top-25 interactive agency in Manhattan. Before joining the web development industry, he enjoyed a 10-year career with Bell Laboratories and AT&T Internet Services. Michael has extensive hands-on experience managing the prototyping and design of advanced multimedia, web and pervasive applications and has done pioneering user experience design work, which won him the Jerome H. Ely Award, on advanced speech processing technologies, biometrics, interactive television, and web design. While at AT&T, he was also director of product development and business strategy for intranet, e-commerce and web-hosting services and Director of AT&T's Internet2 program with responsibility for managing participation in this national technology initiative, which is defining the future of advanced Internet applications. He received his doctorate from Yale University and was an Associate Professor in the department of Design Management at Parsons School of Design.
Sample "start-up to Fortune 50" client experience list:
Viacom/MTV Networks
Kirusa, Inc.
ChoicePoint, Inc.
Little Tikes, Inc.
AT&T
IBM
Siemens Corporate Research
France Telecom
VoiceGenie Technologies, Inc.
Lucent
NCR
KeySpan Technologies
Major financial services firms
US West
Kitchen Etc.
Balducci.com
epromos.com
See abbreviated resume & publication list
And a network of other experts in customer-centered
product and service innovation.